Nine years since the birth of Bitcoin, central banks around the world are increasingly recognizing the potential upsides — and downsides — of digital currencies.
The guardians of the global economy have two sets of issues to address. First is what to do, if anything, about the growth of the private cryptocurrencies that are grabbing more and more attention for a host of reasons: security concerns after a $500 million exchange hack in Japan, volatile price moves and — in the case of Bitcoin, at least — their introduction on regulated derivatives exchanges. The second question is whether to issue official versions.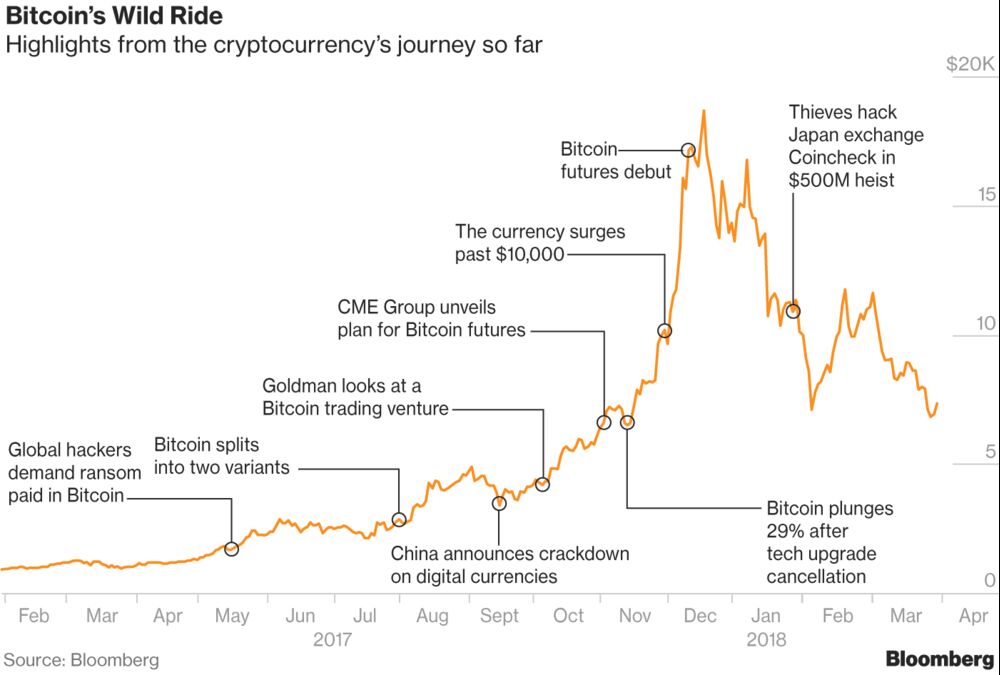 Here's a wrap-up of how the the world's largest central banks (and some smaller ones) are approaching the crypto phenomenon:
U.S.: Privacy Worry
The Federal Reserve's investigation into cryptocurrencies is in its early days, and policy makers haven't been overtly enthusiastic about the idea of a central-bank issued answer to Bitcoin. Newly installed Fed Chairman Jerome Powell said in 2017 that technical issues with the technology remain and "governance and risk management will be critical." Powell said there are "meaningful" challenges to a central-bank cryptocurrency, that privacy issues could be a problem, and private-sector alternatives may do the job.
Cryptocurrencies have seen "extreme volatility" but it remains less clear if they pose a threat to financial stability, Fed Governor Lael Brainard said in April. Randal Quarles, vice chair for supervision at the Fed, said Dec. 1 while the central bank of the world's biggest economy has no policy toward regulation of Bitcoin, it is "worth thinking about." The volume of cryptocurrencies could matter to monetary policy at some point, Powell said in answering a question at his Senate confirmation hearing in November. Right now, though, "they're just not big enough," he said.
Switzerland: Too Risky
The Swiss National Bank said in February it isn't planning to issue a digital version of the franc and sees the potential for such a currency to have an ill effect on the financial system, according to Vice President Fritz Zurbruegg. "Would broad access to a CBDC or broader access to digital central bank money have better results than the current monetary system? And would the Swiss National Bank thereby better fulfill its legal mandate? From our perspective it's a no to both questions," he said at a conference in Germany.
Euro Area: Tulip-Like
The European Central Bank has repeatedly warned about the dangers of investing in digital currencies. ECB President Mario Draghi said in February the blockchain was "quite promising" and the bank is "very interested" in the technology. Draghi doesn't consider Bitcoin a currency however as it's too volatile. Vice President Vitor Constancio said in September that Bitcoin isn't a currency, but a "tulip" — alluding to the 17th-century bubble in the Netherlands.
Even when compared to some of history's biggest bubbles, Bitcoin is wild: read more
China: Cracking Down
China has made it clear: the central bank has full control over cryptocurrencies. With a research team set up in 2014 to develop digital fiat money, the People's Bank of China believes "conditions are ripe" for it to embrace the technology. But at the same time, the authorities are cracking down on Bitcoin mining and cryptocurrency trading. The PBOC's Deputy Governor Fan Yifei said at the end of March the central bank will regulate virtual currencies in 2018, while not giving a timetable for the issuance of its own digital currency.
Japan: Not Needed
Cash is still king in Japan, according to the head of the central bank's FinTech Center. The Bank of Japan is not considering issuing a digital currency as there is "no demand" for it, Yuko Kawai said in January, noting the rise of cashless transactions remains a work in progress in the country. Authorities may be forced to take action on the sector, however, after nearly $500 million in digital tokens was stolen from the Coincheck Inc. exchange in Tokyo on Jan. 26.
BOJ chief Haruhiko Kuroda said in December of Bitcoin that "if it's a question of whether it's functioning like currencies as a form of payment or means of settlement, I don't think it is." Bitcoin "is being traded for investing or for speculation," he said. The central bank also released a Q&A in April raising awareness with the general public about risks of investing in cryptocurrencies.
Germany: Investors Beware
Germans for the first time made less than half their transactions using cash, a significant development for a country with a longstanding fondness for physical money. Yet Bundesbank President Jens Weidmann said changes to consumer behavior will be gradual — and he doesn't consider the "Bitcoin hype" as competition for traditional cash or bank deposits for the foreseeable future. "For a stable monetary and financial system, we do not need crypto-tokens, but central banks committed to price stability and effective bank regulation," he said in February. "We have both in the euro area."
U.K.: Potential 'Revolution'
Bank of England Governor Mark Carney, in his capacity as chairman of the Financial Stability Board, warned in a March letter to G-20 finance leaders the rapid evolution of crypto-assets may one day make them a threat to the financial system. Carney has also cited cryptocurrencies as part of a potential "revolution" in finance. The central bank started a financial technology accelerator in 2016, a Silicon Valley practice aimed at incubating young companies.
France: 'Purely Speculative'
Bank of France Governor Francois Villeroy de Galhau said at a fintech conference in January Bitcoin was a "purely speculative asset" and the G-20 countries need to study the issue. "We need to be clear: bitcoin is in no way a currency, or even a crypto-currency," the governor added in a December speech in Beijing.
India: Not Allowed
Prime Minister Narendra Modi's February budget specifically targeted cryptocurrencies. While the government is considering the use of blockchain technology to organize records, it doesn't consider cryptocurrencies as legal tender and will take all measures to eliminate their use in financing. India's central bank is opposed to cryptocurrencies given that they can be a channel for money laundering and terrorist financing.
Singapore: No Ban
The Monetary Authority of Singapore is closely studying developments and potential risks in the crypto space but currently sees no strong case to ban trading, Deputy Prime Minister and MAS Chairman Tharman Shanmugaratnam said in a February responseto questions from parliament. Ravi Menon, MAS managing director, said in March the authority will "never say never" on cryptocurrencies becoming money. MAS has experimented with digital Singapore dollars on the blockchain and is collaborating with the Bank of Canada on a cross-border solution using tokens issued by central banks.
Brazil: Support Innovation
Ilan Goldfajn, President of Brazil's central bank, said in March cryptocurrencies don't offer stability and while they aren't a systematic risk they need to be monitored. "We are giving an alert," he said. The Banco Central do Brasil sees "no immediate risk for the Brazilian financial system" from cryptocurrencies, but remains alert to the developments in their usage, according to a statement issued in November.
Canada: Asset-Like
Carolyn Wilkins, the Bank of Canada's senior deputy governor, is leading research on cryptocurrencies, and said in March it's important to define crypto assets "before the toothpaste gets out of the tube." Countries need to come up with consistent definitions to avoid any cross-border regulatory arbitrage. BOC staff are also exploring the circumstances under which it might be appropriate for the bank to issue its own digital currency for retail transactions.
South Korea: Crime Watch
Authorities in South Korea have focused on protecting consumers and preventing cryptocurrencies from being used as a tool of crime. Bank of Korea Governor Lee Ju-yeol told lawmakers in a March parliamentary hearing that cryptocurrencies are far from becoming legal tender, and as such regulations to protect consumers and prevent illegal trading are necessary. A task force within the BOK has been conducting studies on cryptocurrencies since January, he said.
Russia: 'Pyramid Schemes'
Russia's central bank has expressed concern over potential risks from digital currencies, with Governor Elvira Nabiullina saying "we don't legalize pyramid schemes" and "we are totally opposed to private money, no matter if it is in physical or virtual form." However, the central bank also announced plans to use blockchain technology for electronic collateral, guarantees and letters of credit, First Deputy Governor Olga Skorobogatova said in February.
Australia: Speculative Mania
Australia's central bank chief criticized cryptocurrencies in a speech in Sydney Dec. 13, arguing the asset is more likely to appeal to criminals than consumers. "The current fascination with these currencies feels more like a speculative mania than it has to do with their use as an efficient and convenient form of electronic payment," said Philip Lowe, the Reserve Bank of Australia's governor. The bank is not planning to issue its own digital currency as a case hasn't been made to do so, Lowe said. The RBA is in close contact with its peers in other countries and few see electronic banknotes on the horizon, he said.
Turkey: Important Element
Digital currencies may contribute to financial stability if designed well, Turkish Central Bank Governor Murat Cetinkaya said in Istanbul in November. But they do pose new risks to central banks, including to their control of money supply and price stability, and the transmission of monetary policy, Cetinkaya said. Even so, the Turkish central banker said that cryptocurrencies may be an important element for a cashless economy, and the technologies used can help speed up and make payment systems more efficient.
Netherlands: Own Cryptocurrency
The Dutch have been among the most daring when it comes to experimenting with digital currencies. In 2015 the central bank created its own cryptocurrency called DNBcoin — for internal circulation only — to better understand how it works. In a January position paper, the central bank said the speculative nature of crypto assets is a cause for concern. The experiments confirmed the technology is "too slow" and underdeveloped currently to play a role in payment systems, but may have applications in the future.
Scandinavia: Exploring Options
Like the Dutch, some Nordic authorities have been keen to explore the idea of digital cash. Sweden's Riksbank, the world's oldest central bank, is probing options including a digital register-based e-krona, with balances in central-database accounts or with values stored in an app or on a card. The bank says the introduction of an e-krona poses "no major obstacles" to monetary policy. As of March, that project is still underway and no decision has been made on issuing e-kronas, the central bank said.
In an environment where the use of cash is decreasing, Norway's Norges Bank is looking at  possibilities such as individual accounts at the central bank, plastic cards or an app to use for payments, it said in a May report. Denmark has backtracked somewhat on its initial enthusiasm, with Deputy Governor Per Callesen cautioning against central banks offering digital currencies directly to consumers. One argument is that such direct access to central bank liquidity could contribute to runs on commercial banks in times of crisis.
New Zealand: Too Unstable
The Reserve Bank of New Zealand's former acting governor Grant Spencer, who vacated the role in March, warned that Bitcoin's runaway gains look like a speculative bubble. "Digital currencies, cryptocurrencies, are a real and serious proposition for the future," Spencer said in a Dec. 10 interviewwith TVNZ. "I think they are part of the future, but not the sort that we see in Bitcoin." The central bank, once a pioneer on the global stage with its early introduction of inflation targeting, said in an analytical notein November that it's considering future plans for currency issuance and how digital units may fit into those strategies.
Morocco: Violating Law
In one of the more strident reactions, Morocco has deemed that all transactions involving virtual currencies violate exchange regulations and are punishable by law. Cryptocurrencies amount to a hidden payment system not backed by any institution and involve significant risks for their users, authorities said in a statement in November.
Bank for International Settlements: Can't Ignore
The central bank for central banks warned in a March report that while digital currencies are a revolutionary tool, they remain far too risky to be used as legal tender any time soon. Central banks could one day use digital currency for tasks such as settling payments among financial institutions, but if issued to the general public they may destabilize traditional lenders.
There is a "strong case" for authorities to rein in digital currencies to safeguard the "real value" of money, Agustin Carstens, head of the BIS, said in a February speech.
Source: Bloomberg